Retractable screen doors definitely have a place in 2022 home decor trends. It's a more attractive and practical style that any homeowner would be happy with. However, trying to pick the right retractable screen door can be challenging and you might need some guidance here and there. 
That's why we put together this handy guide so that you can find a retractable screen door that you'll love so much, you'll want to install it immediately. Let's get into it. 
The Best Retractable Screen Doors of 2022
The CRL Euro Retractable Screen has a lift and latch handle that is not only easy to use, but it's also easy on the hands. It'll keep the door completely shut in extreme weather and you can adjust the height of the handle so that the tallest and the shortest people in the house can all come and go with ease. 
What's more, opening and closing this screen door is a breeze as it just glides without an issue. It comes with aluminum fittings for ultimate durability. The end caps and handle are vinyl with a UV additive to guarantee longevity. 
Even those with bad eyesight are able to see through the charcoal fiberglass screen wire. We're talking about a product that allows for flexibility here and you can even use it for inswinging doors and out swinging ones.  
When you buy the retractable double door screen from Casper, you also get a detailed instruction manual to assist with the installation process. It takes just half an hour to set it up and all you need is a power drill. 
From patio doors to sliding glass doors and even French doors, this door screen can fit in a variety of places. It offers a full-length rubberized magnetic strip which makes for a tight seal, and it can extend to up to 100 by 100 inches.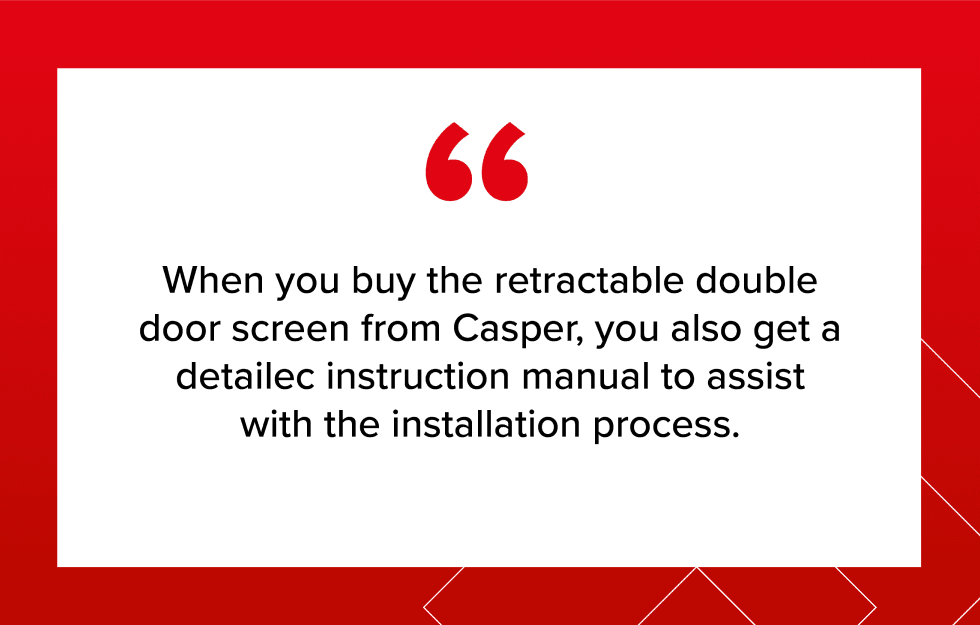 This plastic door screen is perfect for anyone trying to avoid breaking the bank. Weighing in at just over one pound, it's easy to put up and take down. 
You've got a tension rod that can be calibrated to fit into your doorway, and because it's trimmable, you can tie it up when it's not in use and it won't move along with the door.
At just $25, Casper's retractable double door screen is extremely affordable, especially when you consider how it comes with installation hardware. 
It's a sturdy screen that works as hoped. The mesh is tough, the spring works well, and the weighted bottom and pull tabs make it way better than Velcro-only options. If you don't mind replacing your screen every now and again, this is definitely the one to go for. 
Larson really came through with this screen. It's a long-lasting product made from solid aluminum. It's meant to fit most front or back hinged doors, it works well with double French doors, and it's incredibly easy to operate.  
Give it a touch of your finger and it slides over smoothly. Wheelchair accessibility is no problem with this one, with a flat-bottom guide that makes it easy for anyone on wheels to use it.
Like most Larson products, this screen doesn't break easily and it functions as it should. It's a screen door that can withstand the elements for a long time. The best part about this full-view fabric screen is that it's nearly impossible to spot when it's not in use. Plus, it comes in a white finish that gives you the illusion of space while uplifting the mood.
The Andersen 3000 Series is not just another one-hand retractable screen. It's the ultimate storm door on the market right now, thanks to its built-in keyed deadbolt lock and professionally sealed handle edge. 
It's also got top-of-the-line weatherstripping on the top, bottom, and on the sides. In addition to its aluminum frame, it's 1.5 inches thick and the corners are reinforced. 
If convenience was a storm door, this would be it. You can open it without using your hands thanks to the hands-free button-pushing feature at the bottom. There's no need for special tools to set it up; what you have in the garage will probably suffice and in fact, most people can get it running in as little as 45 minutes. 
If protection is your priority, then this is the screen door to go for, no doubt about it. This is an impenetrable screen door that can stand its ground against extreme weather and then some.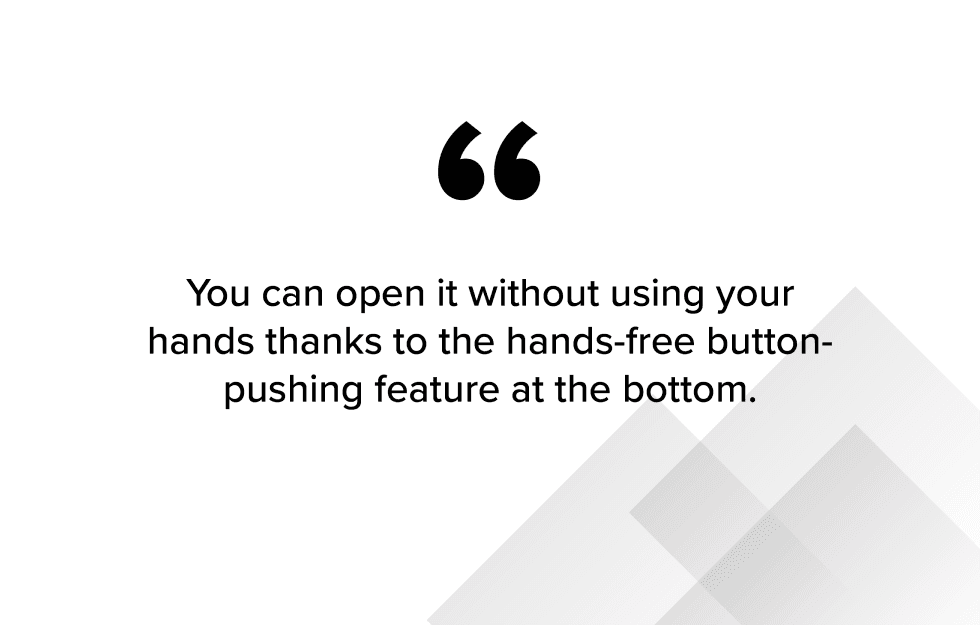 This 85-pound unit can be used all day. It's made from materials that never corrode and can be mounted either on a frame made from aluminum or one made from plastic. Its water repellent, dustproof, and it requires the most basic DIY skills to set up. 
This is a plated screen, so you know it looks good when you open the door. Use it for sideways opening doors and get its size customized to your needs. All told, Greenweb's retractable screen door gives you the freedom of choice. 
This CRL screen is versatile, it fits both inswinging and out-swinging doors, and unlike many door screens; it works perfectly with French doors. 
Extruded aluminum makes up the top and bottom rails as well as the screen pocket and jamb. When it comes to sizing the door for the opening, a single chop saw cut does the trick. In order to mount the door to the exterior jamb, you can make use of the special clips that come with the kit, made specifically for surface mounting. 
Also, this screen can handle openings of up to 38 inches. With an aluminum frame and a fiberglass wire screen that's immune to sagging and tearing, you can bet on this unit to last you a long time. 
If ever you need to replace the cartridge containing the spree, you can easily replace it when it deteriorates or gets damaged. It allows for full ventilation and you get a hydraulic safe glide speed reducer to keep kids, canines, and cats safe from injury.
Are you worried your double door opening is too large? All you need is two of these kits and some slide bolts and you're good to go. Each of the universal flash mount kits comes with detailed instructions for you to set it up yourself. 
You can make custom-fit installations by adding sill adapters and top rail trim moldings. The packaging they use ensures the screen stays protected, and there's a unique wrap-around housing that isn't just protective but attractive as well.   
They don't call this screen Mirage for anything. It will literally disappear into thin air, right before your very eyes.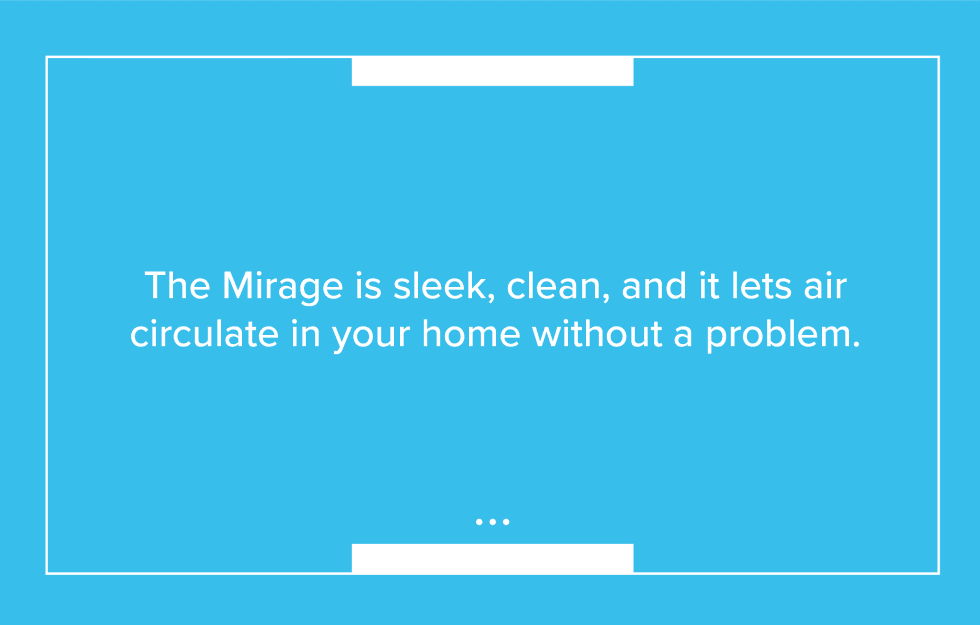 You don't need to tug or pull on the screen to get it open. It's that easy to hold on to. It fits all door applications and you can open it with a single hand. Installation is quick and easy, with just a few mechanical parts required in the process. 
The painted surfaces are durable, the aluminum housing is completely rust-free, and the track is the smoothest you'll find. 
The Mirage is made from parts that are built to stand the test of time. Their powder coating is unmatched, the screen guides are something out of a sci-fi movie, and the whole thing is strong enough even for seaside homes. 
Each of the moving parts is treated with temperature-resistant lubricant, meaning the metal won't be damaged and there won't be any funny noises every time you open and close the screen.
The Mirage is sleek, clean, and it lets air circulate in your home without a problem. Customers regularly praise it for reducing their cooling bills. Plus, installing it won't cause any clutter and it blends into any environment. 
Our favorite part about the Mirage is that it's made by a family-owned manufacturing company, so you know there's loyalty and a long-term vision at the heart of operations.
Final Thoughts 
There are certain things that you need to take into consideration before purchasing a retractable screen door. What's your lifestyle like? Who'll be using your door screen on a daily basis? What's the weather like in your area? 
After asking yourself these and other questions, you'll be in a better position to narrow down your options – and what options they are! 
We've given you a nice selection of high-quality screens that'll make the outdoors seem like they're stretching into your space. The frame is barely noticeable on a lot of these and they're made to last. 
With that said, the Mirage really stands out for its durability. You can expect to open and close it a few thousand times without so much as a squeak. The latching magnet is seriously strong, so you don't have to worry about it opening by mistake. It performs well, it's reliable, and it's durable; basically, everything you want in a door screen.