Retractable Screen Door Installation & Replacement in Phoenix, AZ
Our Professional Screen Door Installation Guarantees to You
Demers screen doors are easy to maintain, they don't easily get dirty, and they pretty much clean themselves.
You get a limited lifetime warranty on all screen door systems installed by Demers.
Your brand new screen doors from Demers will complement your home, they won't look out of place at all, and they'll give your space a glossy, modern feel.
Ready to upgrade your home? Let's chat!
Get a friendly, no-obligation quote for your Phoenix, Flagstaff, or Lakeside glass project today!
Our Screen Door Replacement & Installation Come With These Benefits
Luxury Look & Feel
There are very few mechanical components on our screen doors. They're coated with a protective powder that comes in a color of your choice and special material that lubricates itself. Not only are they pleasing to the eye, but to the touch as well. With a retractable screen door installed by Demers, your lighting is set to improve, ventilation will be much better and it'll give your home a luxe look.
Also, it can almost feel like these screen doors are operating themselves. They slide open without a single hiccup, they pack up fast and without fuss, and they're great for entertaining a group of guests because they're so easy to use.
Metallic elements and innovative plastic solutions combine to give you the benefit of comfort and convenience. You'll feel as though you're in a five-star hotel at one moment, and a futuristic landscape the next. Such is the power of retractable screen doors.
Endless Color Options
You decide what color you want your screen door frame to come in and there's a vast spectrum of colors to choose from. Whether you want a bright and funky color to add some life to your space, or a classic shade to create a classy ambiance, Demers will get it done for you without a hassle.
Superior Quality
Our aluminum powder-coated frames offer long-lasting protection against the forces of nature. The brutal climate in Phoenix, AZ is no match for the high-quality screen doors at Demers Glass. This is a responsive system, which means you can open the screen doors with just one hand. Also, Demers makes use of strategic business partnerships, resulting in the best products installed by top technicians.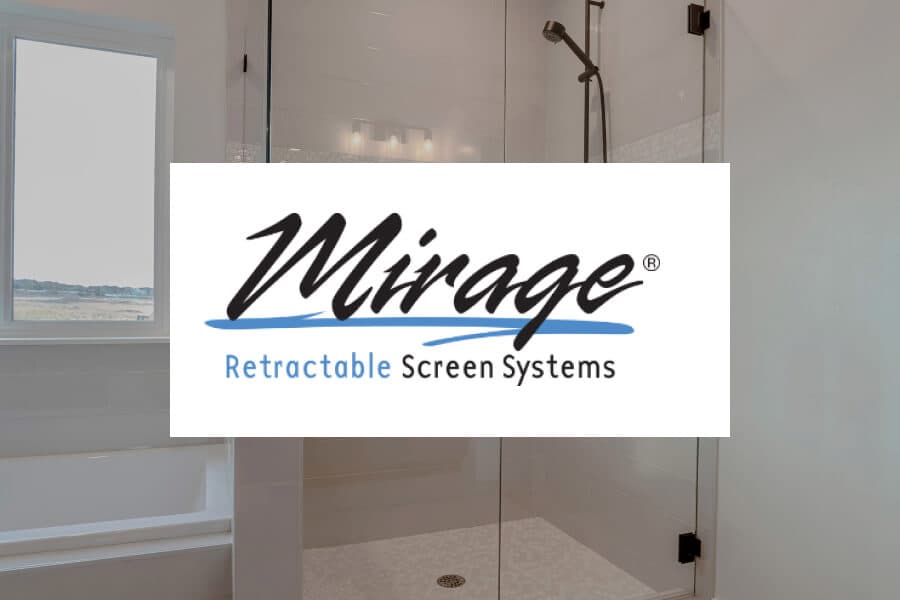 Most of our customers choose Mirage Retractable Screens to help ventilate their home with natural air while reducing their energy costs.
Best of all, Mirage offers a limited lifetime warranty on all of their screen products.
Frequently Asked Questions
What is a retractable screen door?
A retractable screen door is a door that rolls up into a cylinder to become virtually invisible, allowing for a free flow of air and opening up your indoor spaces to the outdoors. Retractable screen doors keep bugs out of the house. They help with cooling when it's warm and heating when it's cold out. They can even make a difference in your energy bill by helping you save on energy costs.
How to install a retractable screen door?
Installing a retractable screen door calls for one to put together the side, top, and bottom screen tracks. This is where the screen will actually take its place, so great caution is needed when setting it up. When this frame has been assembled, it needs to be placed into the opening where it'll be kept safely in place with screws.
How to fix a retractable screen door?
Getting a certified professional to repair your screen door is recommended in case of serious damage. Otherwise, you can just pop the screen back if it ever comes out of the tracks it slides through. If the rolled-up cloth in your screen door gets ripped or ends up with a hole, however, you'll need to take it to a professional which entails removing the entire assembly or you could call out a professional to fix it onsite after an assessment.
Here are a few words from real clients about the work we do.
Elite Craftsmanship & Service
My sliding glass door was not sliding! Your repairman fixed it in a matter of minutes. Very professional and courteous. You made my day! I'll certainly recommend you to my family and friends.