Heavy All Glass Systems Install in Phoenix
Our offerings include systems fortified with fully tempered glass, available in various thicknesses such as:
3/8 inch (10 mm)
1/2 inch (12 mm)
5/8 inch (16 mm)
3/4 inch (19 mm)
Clients have the luxury to select from an array of glass styles, ranging from pristine clear glass, chic tinted variants, durable laminated, bespoke colored laminated, to the artistry of simulated sandblasted glass.
For that polished touch, our glass comes with meticulously machine-ground and polished edges, ideal for the exposed edges of doors and sidelights. Alternatively, flat ground edges are available for abutting glass edges. To further enhance the minimalist elegance, our glass doors boast top and bottom rails, as well as patch fittings. Finishes vary from the classic anodized to the gleaming polished stainless steel.
We provide door rails in a range of profiles and dimensions:
Profile: Square
Profile: Beveled (Exclusively available in a 4 inch [102 mm] high profile)
Heights: 2-5/16 inch (59 mm), 4 inch (102 mm), 6 inch (152 mm), 10 inch (254 mm), with customized sizes also available upon request.
To complement our doors, we offer an extensive selection of hardware. This includes standard concealed door closers, ADA-compliant assisted door closers, traditional push and pull handles, both standard and electrified panic bars, the secure Mag Lock system, and a plethora of other innovative solutions.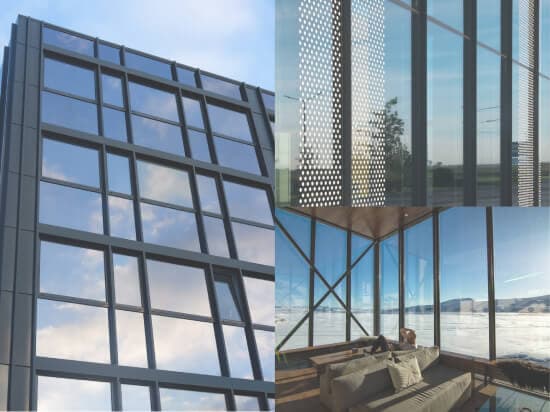 Take a look at all of our Commercial Services
Demers Glass provides the highest quality commercial glass services to clients throughout the state of Arizona. Our skilled staff of glaziers have many years of experience in glass design, fabrication and installation. Plus, we offer exceptional customer service to ensure that you receive the best commercial glass products and services possible.
Ready to upgrade your business? Let's chat!
Get a friendly, no-obligation quote for your Phoenix, Flagstaff, or Lakeside glass project today!