An electric fireplace is a great investment. It saves you the trouble of handling firewood with your hands and it gives out zero fumes, fire, or gas. Plus, it's low maintenance and easy to use.
From attractiveness to durability and even efficiency, there are many reasons to get one. The only question that remains is; which electric fireplace should you get? Here are 4 of the best electric fireplaces to keep you warm through 2023:
Designed with minimalism and utility in mind, this TV stand comes with a 23″ electric fireplace insert. It weighs 121 pounds, with dimensions of 54.1×19.8×31.3 inches.
It features storage shelves, both open and closed, for your consoles, potplants, or decorative knick-knacks.
It's crafted from laminated particleboard and MDF wood with clear, tempered glass doors and a metal firebox insert. The white finish and medium brown woodgrain details give it a sense of style and relaxation.
In addition to its aesthetic appeal, you have functional features like the wire management cutouts on the shelves and it has the capacity to heat an area of up to 400 sq. ft. The flat top can effortlessly accommodate a 60-inch flat-panel TV.
Along with the electric fireplace insert, you get a remote control and an LED system that produces a flame effect. There are also four touchpad settings and three brightness settings that add to the flame effect.
It takes two people to assemble the whole thing and while it's not particularly difficult, it isn't simple either. In terms of electrical power, it'll take 110 volts to keep it running. All of this, and more, can be yours from $499.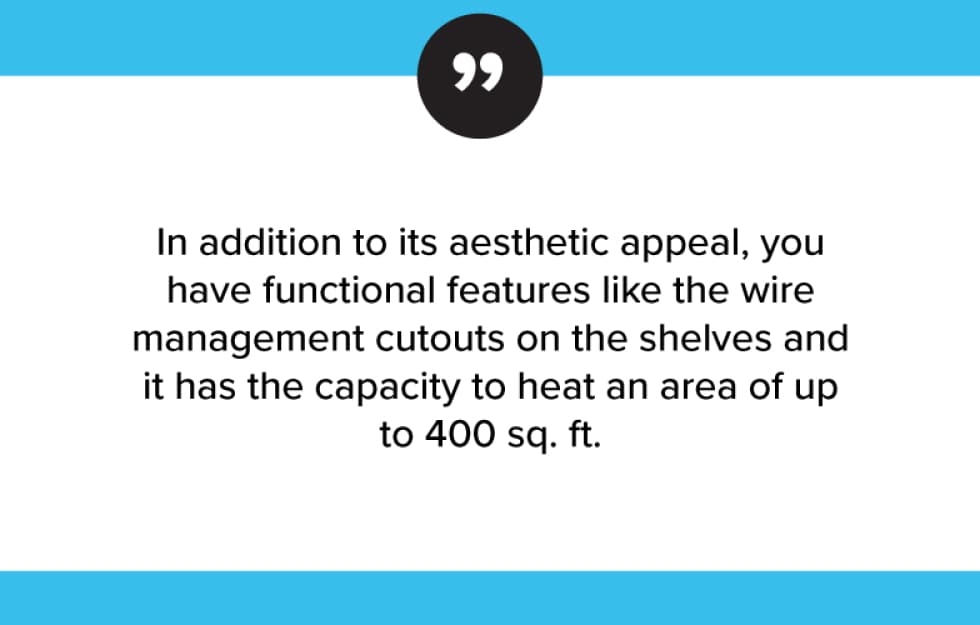 Pros
This model is a two-in-one deal; you get an electric fireplace and a TV stand.
Installation can be made simpler by following the instructions provided.
It's sturdy.
Cons
While it's easy to install, it will take a long time; several hours actually. 
The installation instructions can be a bit tricky.
This metal electric fireplace stove makes use of infrared quartz heat and it weighs 28 pounds with dimensions of 24×12.9×23.4 inches. It comes with side-vieweing windows, an adjustable thermostat that gives you the ability to choose how warm the room should be, and you can set the speed of the flickering flame and toggle between 5 levels of brightness.
In terms of style, it's got a classic look with a touch of modernity. It also comes with a glowing log and ember bed, complete with a flame effect that works with or without heat. The timer allows you to set the amount of time you want the fireplace to stay on. 1500 watts is what gets this baby fired up, the power requirement is 120 volts, and the heat production is at 5200 BTUs.
In the price department, there are going to be differences according to which color you go for. You could find yourself paying between $290-$320. The priciest of the bunch is the navy blue one, which is the most striking of the lot. 
Pros
The metal body is robust and makes for a durable product.
You can safely use it even when your kids and your furry friends are around. 
It can heat up a space of up to 1000 sq. ft.
Cons
You need to open the door in order to change the heat.
You can't control the flames by way of remote control.
This plug-in-powered, wall-mounted fireplace weighs about 46 pounds and it stands 21.625 inches high, 50.375 inches wide, and has a depth of 3.375. Primarily made from metal and glass, it has a smooth finish and an elegantly contemporary rectangular shape.
You can activate the LED flames anytime to belt out some warmth, and 5118 BTUs is the most you can get out of this one, with heat that spreads 400 feet. Features include adjustable flame, automatic safety shutoff, and thermal overload protection. It comes complete with artificial logs and fire beads, as well as a remote control that keeps the whole thing operating.
Assembly isn't required on this one, as it comes as one piece. You're dealing with an amperage of 12 amps and a voltage of 1500 watts. Depending on the kind of finish you select, you could pay between $310-$510 for it.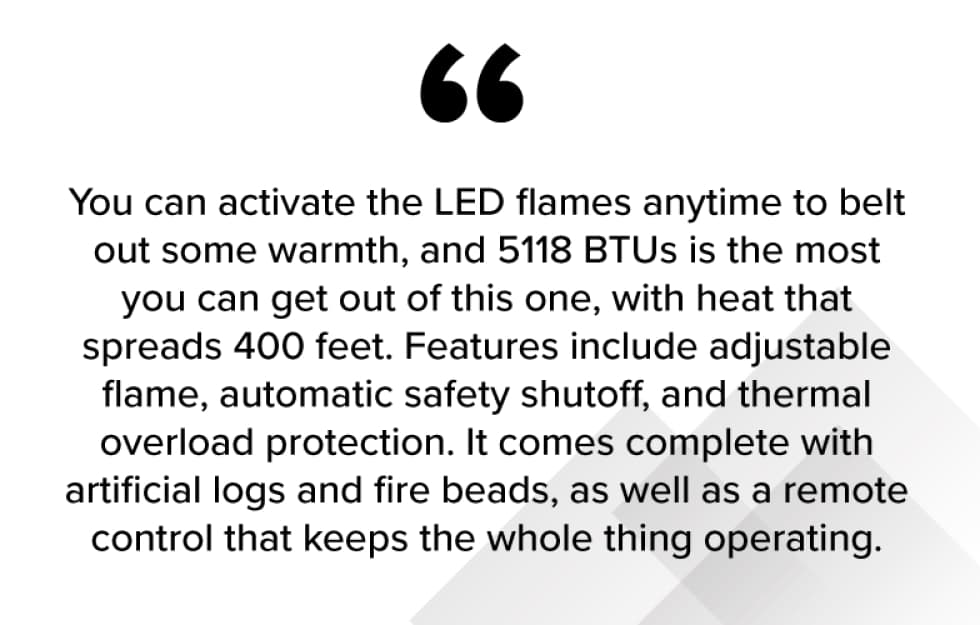 Pros
It has a sophisticated look and feel.
It doesn't require any hardwiring when setting it up.
It's cool to the touch.
Cons
The fireplace screen doesn't come included.
The mantle is sold separately.
Appropriately tagged as a "mini" fireplace, this is the most compact and portable option on the list. It measures 14.5×5.1×6.5 inches and it weighs just 6.5 pounds. It's a plug-in that has a 72-inch long cord and it has a subtle yet effective design with a simple yet futuristic look. The metallic finish complements the glossy plastic, making it quite the eye-catcher. 
A bed of embers and an LED-simulated 3D flame effect come standard with this model. Worth noting is the fact that the effect can be employed without making use of the heating feature.
It also boasts a body that's cool-to-the-touch and a molded top handle that allows you to easily move the fireplace heater. There's also a safety tip-off switch to ensure that if the unit were to ever fall over, it'll simply shut off. The overheat protection system helps regulate the temperature for added security.
To operate it, you'll need 120 volts and 1200 watts, and as small as it is, it can heat up a space of up to 1000 sq.ft. Acquiring this one will only set you back $40 and that makes it one of the more budget-friendly options on the list.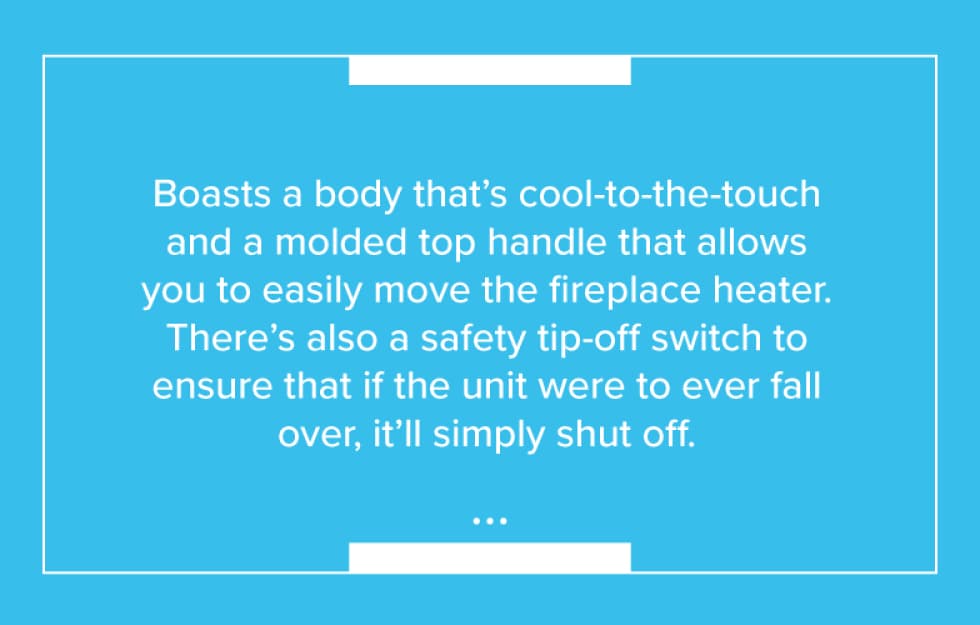 Pros
It's very affordable, especially when compared to other options.
You can move it from point A to point B without breaking a sweat. 
It's suitable for use in an office environment.
Cons
It can be a little noisy for some individuals.
The plastic material might not be your cup of tea.
Housewarming
So those are some of the best electric fireplaces on the market and hopefully one of them has caught your eye.
As you can see, different electric fireplaces come with various features, with some more advanced than others. From freestanding ones to electric inserts, your choice will depend on whether you want portability or stability. Style will also factor into what you pick as you don't want to go for something that looks out of place.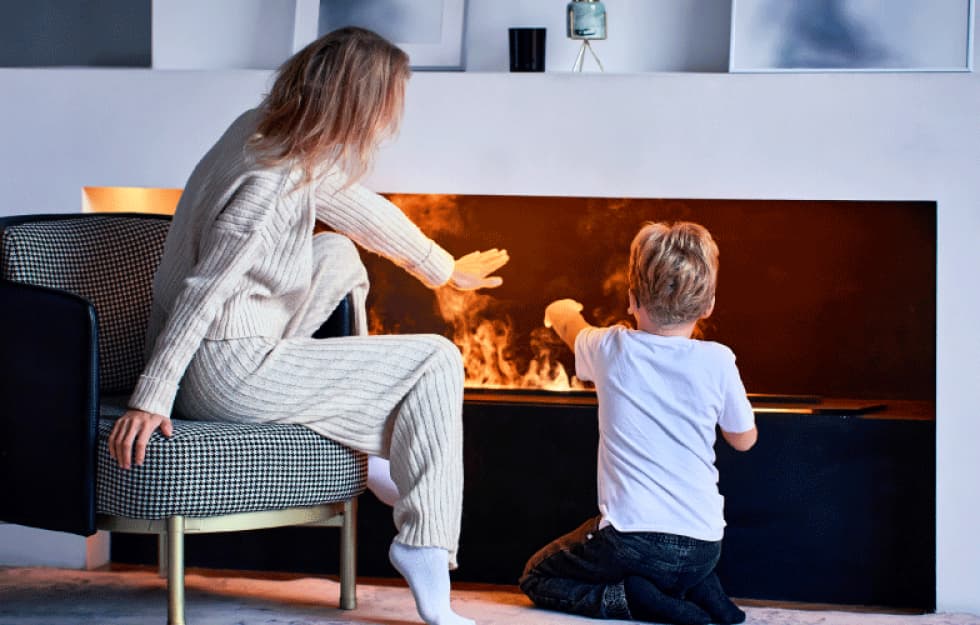 Some are going to be hardwired and others will be plug-in. You'll also want to look out for wattage, which is an indication of energy efficiency. BTU rating will also call for your attention because that's how you know how much heat it produces.
Most importantly, an electric fireplace should warm your home for years to come, and that's where quality materials and installation come in. For example, tempered glass is typically more affordable and durable than ceramic glass. Having gone through a process of heating and cooling, it can withstand high amounts of heat for a long time. This makes it ideal for an electric fireplace screen or door.
Hopefully, you can now finally settle on a choice with the confidence that it'll make your home cozier than ever.