There's nothing quite like enjoying natural views while sitting in your space. Not only does natural light help to cut down energy costs but it can lift the mood, bringing life to an otherwise dull space. That's the beauty of the skylight, it's practical and aesthetically pleasing. Just as well, you're spoilt for choice as a homeowner, with both classic and modern skylights available for installation. 
However, when it comes to skylights, there are differences in structure and function as well as aesthetics and finishes. While there are standard skylight dimensions, the specifics of your space will have to be taken into consideration. Your personal preference will also factor in. If you've ever wondered what the best type of skylight is for your home, you're where you're supposed to be.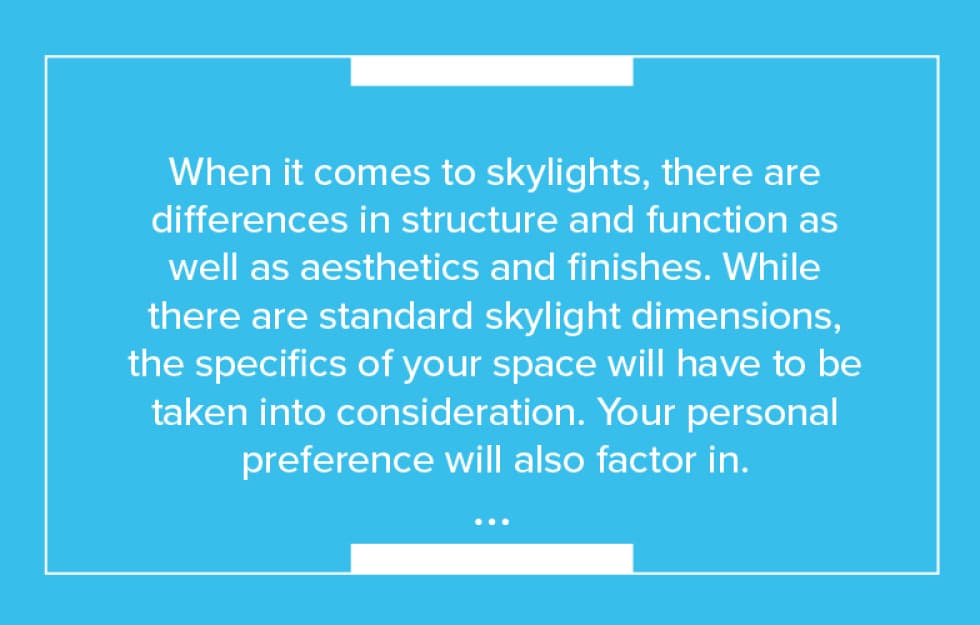 Deck Mounted and Curb Mounted Skylight
There are two kinds of installation to consider. Your skylight can either be deck mounted or curb mounted. If its deck is mounted, then it's fixed onto the roof. In the case of curb-mounted ones, the skylight will be fixed onto a frame that's positioned higher than the roof. 
Curb-mounted skylights are more versatile in terms of size, they're cheaper and easier to find. As for the deck-mounted kind, they're more modern, more striking, and even more energy-efficient. One should note that these are harder to install compared to the ones fixed directly onto the roof. What's more, they perform as well as the curb-mounted skylights when it comes to keeping moisture out. 
Solar Powered Skylights
If you're looking for more energy-efficient skylight ideas, the solar-powered option is both convenient and eco-friendly. Rather than using your electricity to open and close the skylight, this one draws energy from the sun. Costing no more than the usual electric skylight, you can ventilate your room at the touch of a button; without consuming power from the grid. Not only can this skylight increase your resale value, but you'll also be eligible for tax credits when you install one. 
Pyramid Skylights
A popular choice for owners of modern homes, pyramid skylights have four sides leading to a single edge at the top. They're supported by a steel frame and they sit on a square opening in the roof. Depending on the shape and size of your roof, it'll be tilted and sloped in a certain manner. Aerodynamically they're the best, in water management they're unmatched, and of course they're pleasing to the eye.
Frosted Glass Skylight
Maybe you don't need the fullness of raw natural light in a space. The frosted glass skylight reduces some of the light coming through, giving a gentle sheen without the glare. You can have multiple ones or have an extended one to increase the range of light. For those concerned about furniture or textiles fading from too much light, this is a good choice.  
Vaulted Skylights
This kind is sloped or arched on the outside, creating a space above the roof; hence the name vaulted. You have barrel vaults, quarter vaults, and bubble skylights. Barrel vaults are topped with curved glass and are supported by two half circles of glass. Quarter vaulted skylights come in the shape of a quarter circle, not a half-circle as is the case with barrel-vaulted skylights.
Another deviant from the typical flat-shaped skylight is the bubble skylight. Complementing a flat sheet of plastic to make the whole thing more secure, these are made of glass and shaped like a bubble. You have a deadening of movement when you get this one, with zero contraction and expansion taking place. This skylight will also shed more water and let in light from all angles.
Vented Skylights
Think of it like a window or sunroof for your house. You get to let fresh air in while preventing condensation. You can open and close it at will, with advanced options allowing you to do this remotely. Vented skylights are especially useful in areas that are often filled with water vapor or spaces that are usually stuffy.
Sun Tunnel
So what do you do when you don't have much space in your roof for a big, bright skylight? Why, you get a sun Tunnel of course! A highly reflective tube running from roof to room makes for flexible installation and fit into nearly any set-up. Since they're small, they're easier to install and spotlight smaller spaces but they don't offer a view like regular roof windows. 
Dome Skylights
These are made of plastics, but you don't have to worry about them melting when it gets too hot. This is because they're made from tough, adaptable plastics that let light in without their structure being compromised. After all, they have an insulating layer and a protective layer to make sure of that. Dome skylights can brighten up your entire room by bending light from a single beam.
How Do I Choose a Good Skylight? 
With such a wide selection of skylights to choose from, making a decision can be pretty challenging. You can't just go by what looks good. If you live somewhere that's relatively hotter than most places, you'll probably want to go for a more hardy skylight, for example. Not all skylights offer the same benefits, so there are some things you've got to keep in mind.
You want to consider the type of glass that'll be used because that'll determine the durability. Plexiglass skylights are lightweight, easy to install, and inexpensive, but they're the weakest of all. Vulnerable to UV rays, scratching, and discoloring, they're not as strong as scratch-resistant, and heat-treated tempered glass. As for laminated glass, a coating between two layers of glass makes it long-lasting and robust but also expensive. 
You want to look at the brand of skylight so you can contact the supplier for guidance. You should also pick your skylight size according to the size and shape of the room you want to install it in. The cost will obviously influence which one you'll go for, so it's key to make comparisons. Installation charges will apply, so you'll need to think of that in relation to the quality of the service you'll be getting.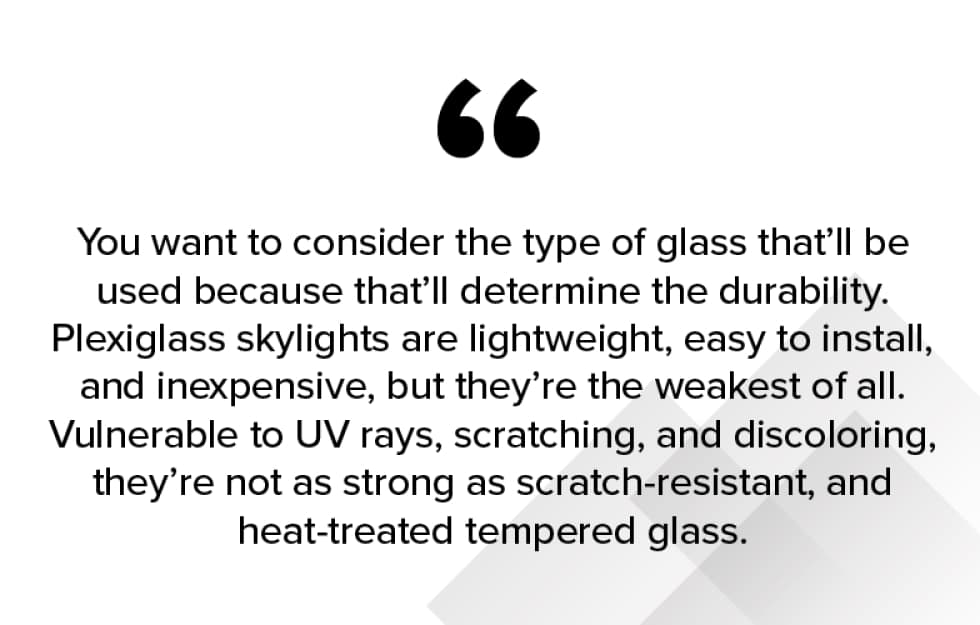 What's the Best Type of Skylight?
When it comes down to material, glass skylights are your go-to, not only do they look better but they're also more hard-wearing. If they're operable; all the better, and that's just based on convenience, comfortability, and cost-effectiveness. For those interested in the top-of-the-line kind with energy and property value in mind; solar-powered skylights are the answer.
Which Skylight is Best at Resisting Leakage?
As with any windows, water seepage can be a concern with roof windows. The best thing you can do is to have curb-mounted skylights installed instead of deck-mounted ones. There's no limit to how big they can be. This means you can have more glass covering your roof with fewer spaces for water to leak through.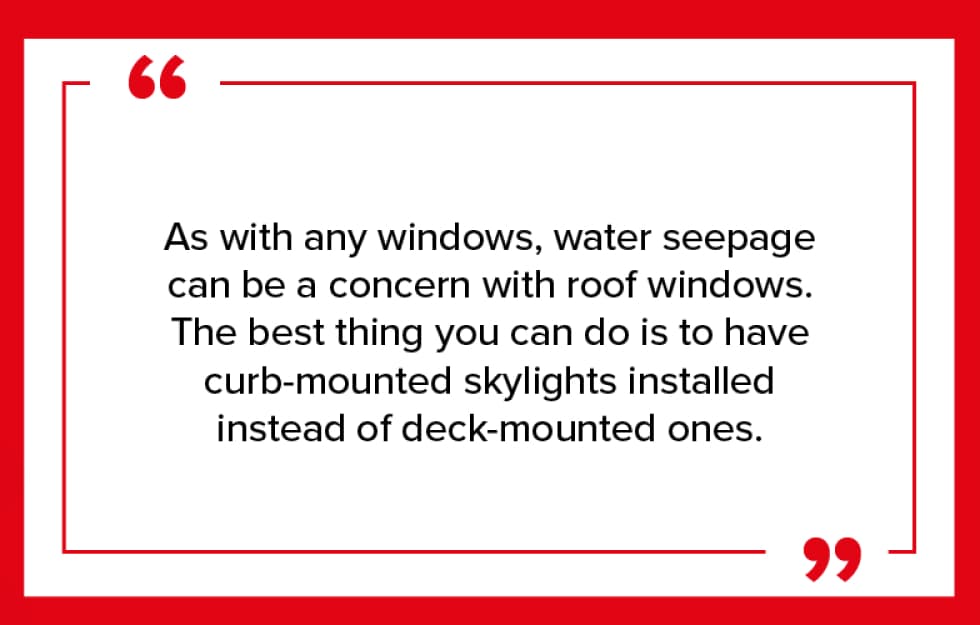 Are Glass Skylights Better than Plastic? 
You're going to spend more when installing glass skylights, but for good reason. Yes, there's no chance of the plastic ones shattering. Still, they can become brittle as the years by, accumulating marks and changing color with more exposure to oxygen. The key is to go for skylights made from either laminated or tempered glass since these are tougher.