When shopping around for windows and doors, there are certain things you need to look out for. It's not just about who installs your windows, it's about who makes them as well. You need credibility and experience, quality products, and a wide range of glass options. 
Pella and Andersen are manufacturers that have been around for decades and they tick all the right boxes. But if you had to choose one of them for your next window replacement, would you know who to pick? 
Consider this a crash course in both companies and hopefully, it'll bring you closer to a decision. We'll look at what makes Pella and Andersen similar and what sets them apart while considering their backgrounds and comparing their products. 
Business Background
Andersen Corporation
It all started in Hudson, Wisconsin. The year was 1903 and a Danish immigrant by the name of Hans Andersen started a lumber company with his family. Five years later, the company was repurposed into a window frame business. By 1913, the business had grown so much that a new site was needed. And so a factory was built in South Stillwater, or what's now known as Bayport, Minnesota.
Andersen supported the war effort in WW2 by making award-winning ammunition boxes and cutting down the use of much-needed metal. The company now employs 12,000 people across 30 manufacturing facilities, supply chain centers, and retail outlets. By the end of 2020, they'd recorded $3 billion in sales, so you know they mean business.
Pella
Another family business with a history of selling lumber, Pella was founded in 1925 by Peter Kuyper and his wife. The family bought out a business that made insect window screens, the Rolscreen Company, a $5000 investment they wouldn't regret. Just a year later, the company was moved to Pella, Iowa, which is where they'd been selling their lumber. Soon, they became one of the biggest window manufacturers in the country, later changing the name to Pella Corporation in 1992.
As we speak, the company boasts of about 7000 employees, all of whom are spread out among Pella's 16 manufacturing sites. Not only do they operate in the United States, but they also have operations running out of Canada. Despite its humble beginnings, Pella Corp now records revenue of about $1.2 billion every year. 
What Difference Does it Make?
If you can, it's always a safe bet to go with a larger manufacturer. Local suppliers may offer personal service, better value, and they're probably better acquainted with the local area, but big companies like Pella and Andersen pour loads of money into research. They invest heavily in developing new, more efficient products, and they do all of this responsibly and with the environment in mind.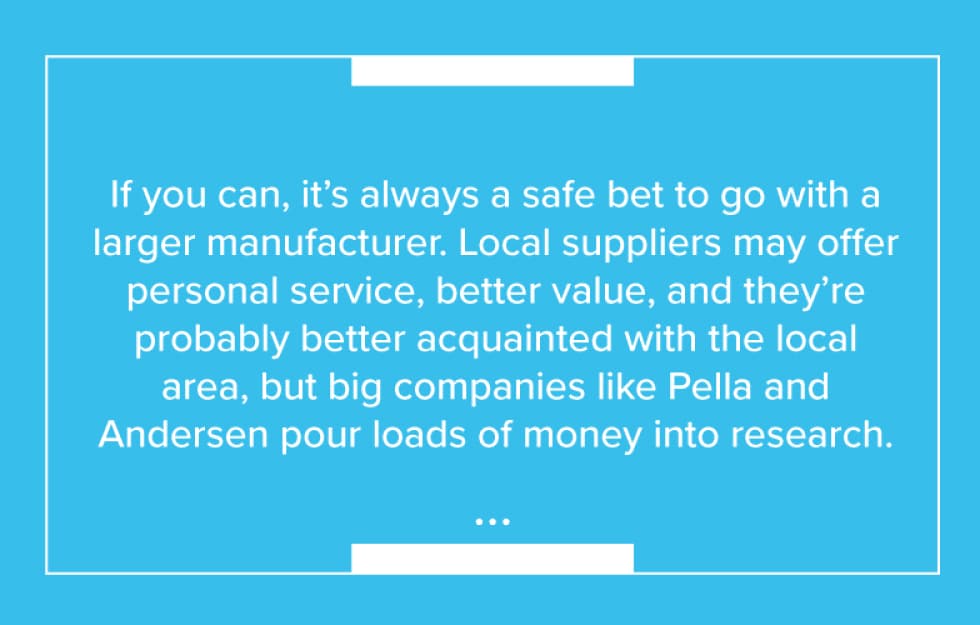 But, even among the most innovative and fiercely competitive manufacturers, there are noticeable differences that you just can't ignore. For example:  
Moisture easily builds up on Pella's wooden windows and air leaks can happen at any time. The reason; it's all in the structure. The ones from Andersen make for a sturdy, tight fit; being fully extruded and all.
Andersen offers more options in terms of color, grid combos, as well as finish options.
Pella windows make for a more classical, cleaner look and it's all thanks to the thin sash and the narrow track they have. Andersen's thick sash and wide track are far from minimalistic.
Pella has a lifetime warranty and Andersen has a 20-year warranty. Pella's warranty isn't transferrable to a person you might decide to sell your home to. Andersen's warranty is owner-to-owner, on the other hand. Hello, closing time leverage!
Anybody can install Pella windows, but Andersen certifies and specially trains all installers that sell theirs. Most experienced contractors can install both. 
Pella has a brick-and-mortar store from where they sell their products while Andersen only sells through dealers.
FAQs
Who is More Expensive: Andersen or Pella?
You have to remember that Andersen is a bigger manufacturer than Pella is. It simply takes more for Andersen to get their product to the customer since they work through dealers. They're also personally responsible for any installation issues, meaning they've got a lot more on the line. Andersen has more costs to cover, with more salaries to pay and more facilities to run and maintain.
Which is Better Andersen or Pella Doors?
When you look at the reviews, it's clear that Pella has inferior doors. Countless customers have reported their wooden doors rotting. The company doesn't seem to take much responsibility, citing 'normal wear and tear'. The doors from Andersen are able to endure even the harshest of elements, and you have a lot more freedom with regard to exploring different options. 
For the Record
Both companies have a pretty decent track record, especially when you consider how long they've been in the industry. Pella lost a lawsuit brought before them on account of a design defect in one of their products. Andersen also had a lawsuit come their way but they managed to steer clear of it after the person who took them to court kept changing their story.
Where it concerns issues of customer dissatisfaction, Pella leads the way. Half of what makes their customers unhappy is their product itself. Under 20% of Andersen's bad reports had to do with their offerings. The data shows that customer service is one of Andersen's greatest challenges. With Pella, poor quality customer services only make up a third of their issues. This may be attributed to the fact that Andersen doesn't have their own retail outlet while Pella does.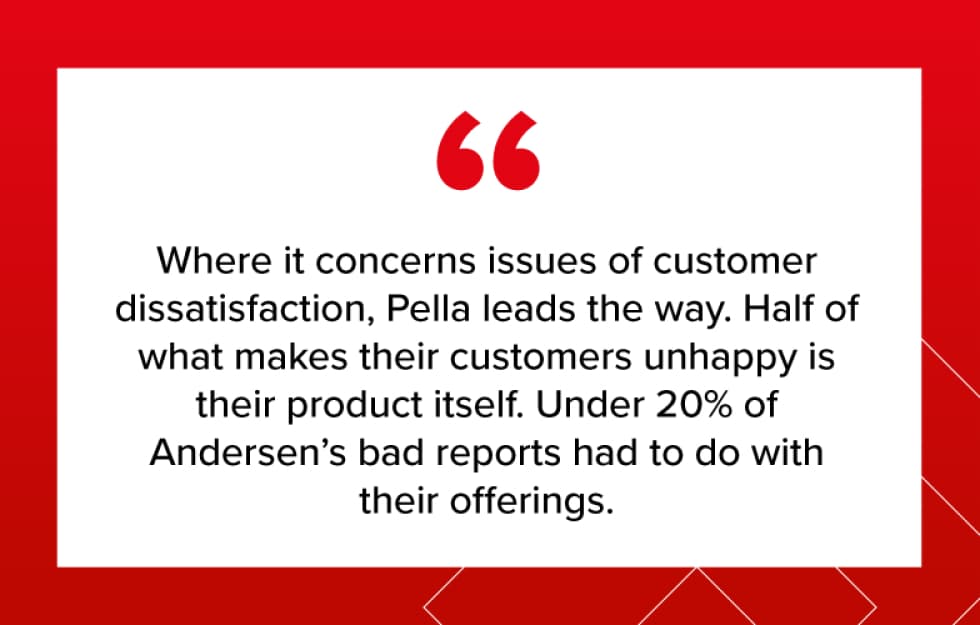 Is Andersen Cheaper than Pella?
The cheapest window made by Pella is nearly $700. When it comes to Andersen, however, the lower bound for a window is at $1000. What that translates to is a difference of more than 20 percent. There are different factors that come into play before the product hits the shelves, and that's what makes the price higher or lower. Plus, it matters that one brand has been in the business for much longer than the other. 
Which Windows Brand is the Best?
It's important to realize that the best window brand is the brand that's best for your home. In other words, what you desire and what you require has to be considered. Are you looking for an affordable window purchase or certain types of windows? Is quality your number one priority? Perhaps you'd be better off if you had more options to pick from. You simply can't rely on someone else's word because your home is unique and you have your own sense of style. 
If you're looking for windows that outperform in general, Andersen is the one to go with. It's better built and lacks nothing in functionality. Pella windows outdo the ones from Andersen in the pricing department, being cheaper to buy. 
The truth is that these are both great brands; otherwise, they wouldn't be competing with each other at such a high level. Once you know what you want and need as well as what you can manage, you can then go ahead and make your final decision.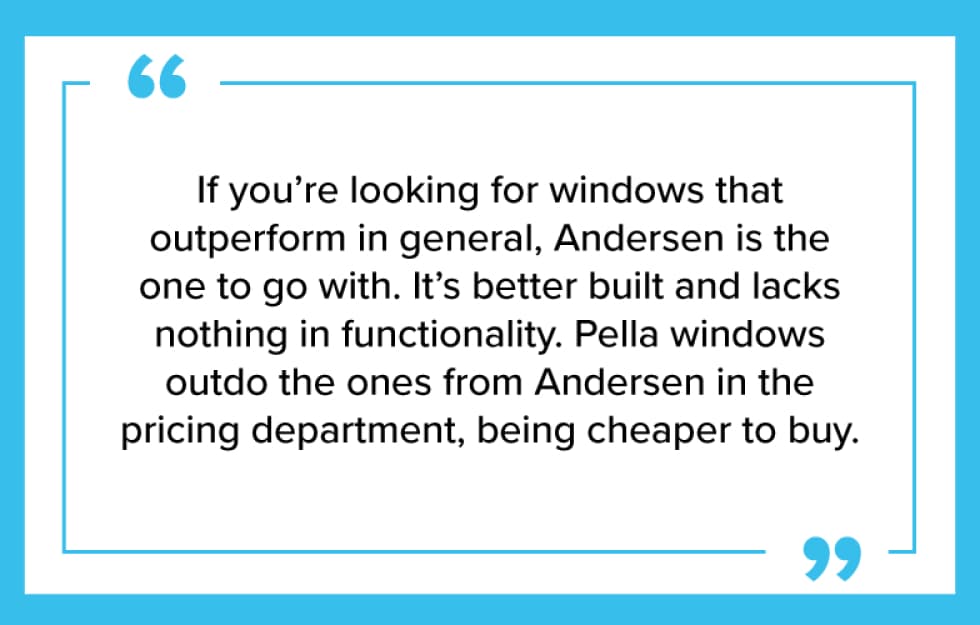 Quick Tips
For those that don't have a clue about replacing windows, consider consulting with your local installer. Whether you're looking for picture windows or operable ones, it's just a matter of picking up the phone. 
Say you want to choose a contractor or you're in the process of deciding whether you need thermally broken or non-thermally broken windows. You might be trying to figure out the whole window tinting thing. All of this information is just a few clicks away, so why wait?
The most important thing is to not buy blindly. You've got to be aware of exactly what effect certain windows have on your space, especially with whole-house window replacements or installations. You need to think in terms of security, natural light, and the view of the outdoors as well as energy efficiency and resistance to the elements. 
Buying from a reputable dealer pretty much saves you the trouble of worrying about all these things. After all, they've got a reputation to uphold, so you know they'll be forthcoming with their products.
The Verdict
Both Andersen and Pella are great brands, but there can only be one winner. Determining the winner isn't a straightforward thing, one must look at the different characteristics to come to a decision. The windows you'll buy may well remain attached to your house for as long as you stay there, that's why this is so important.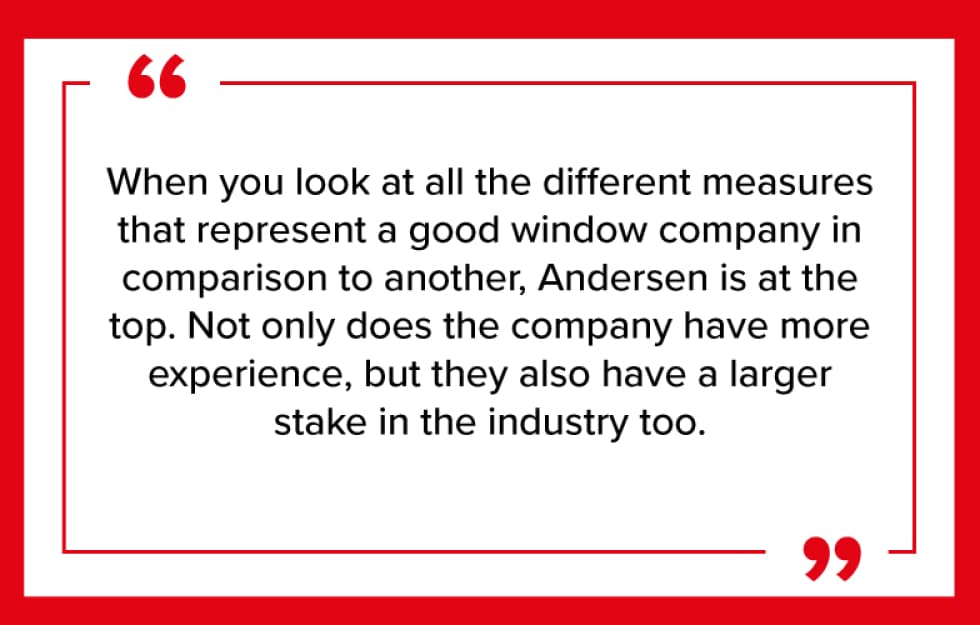 We've combed through the features of the products provided by these companies, talked about their history, their pros and cons, and the differences between them. Armed with so much knowledge, you should be equipped to make the right decision for your home. 
When you look at all the different measures that represent a good window company in comparison to another, Andersen is at the top. Not only does the company have more experience, but they also have a larger stake in the industry too. In addition, they have and continue to receive billions in capital to expand their business, making the manufacturing process more responsible and high quality.