Well, hello there, sunshine (literally)! Imagine a home that's part art gallery, part botanical garden, with an unobstructed panorama of the outdoors. 
Well, the good news is that it's a pretty easy upgrade you can add to your home.
It's called floor-to-ceiling windows & these giants of the window world bring the outside world in, bringing you all of the best parts of nature without all of the worst parts, like bugs.
Now, floor-to-ceiling windows are more than just oversized peepholes—they come with a host of benefits that might have not crossed your mind. In this piece, we will cover those benefits, a bit on the installation process, and how to maintain these kinds of windows.
Let's get into it!
Why Choose Floor-to-Ceiling Windows?
So, you're asking yourself, "Why should I swap my cozy little windows for these wall-sized monstrosities?" 
Well, my friend, floor-to-ceiling windows are like Instagram filters for your home—they make everything look better. They flood your living spaces with natural light, turning ordinary rooms into warm, vibrant spaces that are perfect for lounging, photoshoots, or just wowing your friends.
It really doesn't stop there.
They offer fantastic views (provided you're not facing a brick wall) and can create an incredible aesthetic that will have your guests' jaws dropping quicker than clumsy butlers.
And if you don't believe us, just take a look at pictures of newly renovated homes with these upgrades: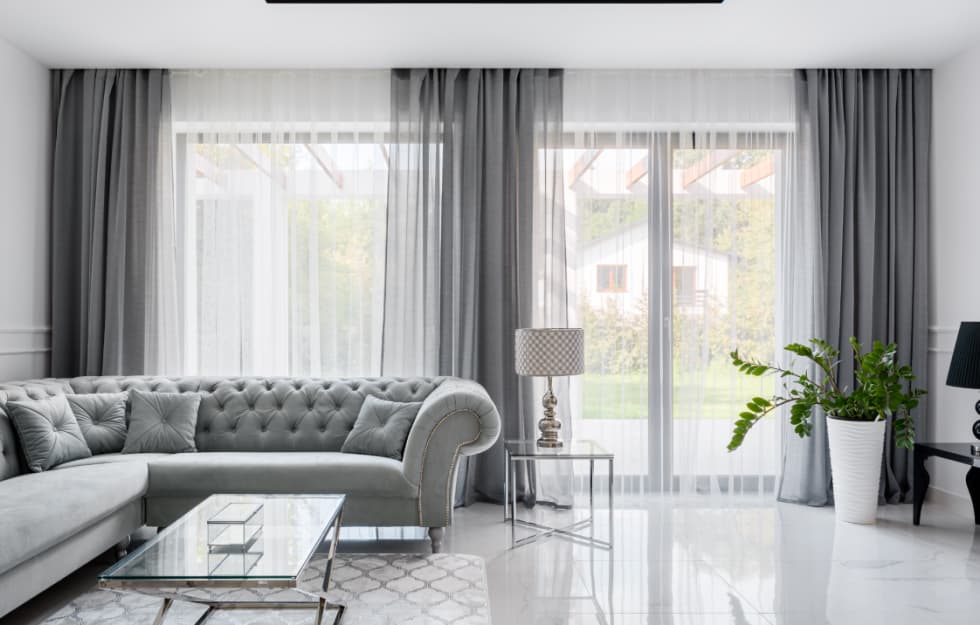 Styles of Floor-to-Ceiling Windows
Like fashionistas of the window world, floor-to-ceiling windows come in a range of styles that can cater to your specific taste. From sliding windows that blend seamlessly into your walls, to bold geometric designs that make a statement, there's a style for everyone, and nothing we can't install.
To give you a sneak peek, here are some more examples of floor-to-ceiling windows. From modern minimalist to industrial chic, these windows make a fashion statement louder than a leopard-print suit!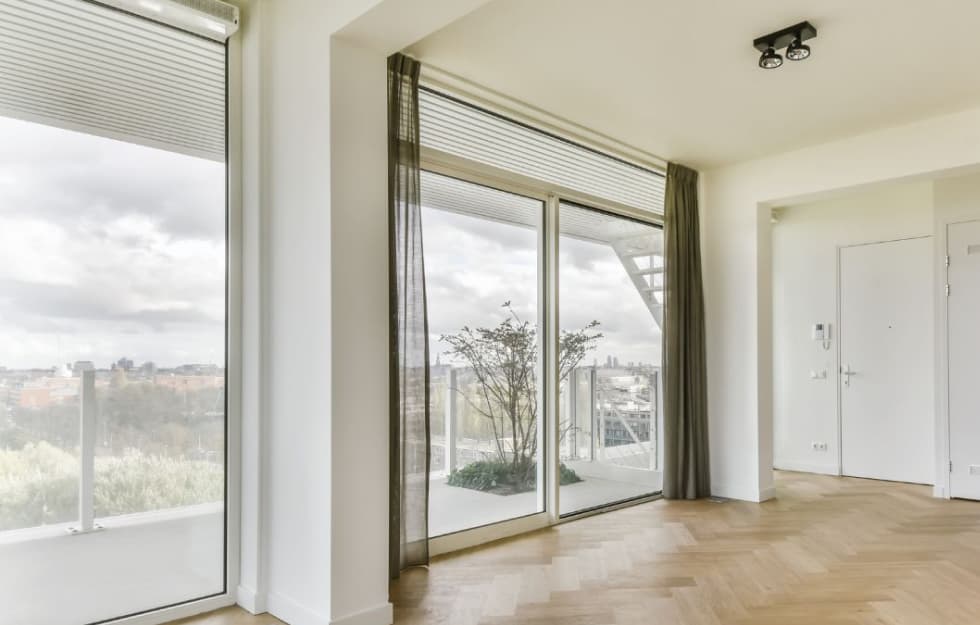 The Technology Behind Floor-to-Ceiling Windows
Now, these windows aren't just a pretty face. They're packed with features like energy efficiency and advanced insulation that'll keep your home cozy in winter and cool in summer. 
Thanks to evolved glass technology, floor-to-ceiling windows are now more feasible and beneficial than ever before. With solar control and acoustic insulation features, they're the equivalent of a violinist who also happens to be a scientist. You get beauty, brains, and eco-friendliness all in one package!
Floor-to-Ceiling Windows Installation Process
"But aren't they hard to install?" you ask. 
Not with us, my friend! 
Our team has been installing floor-to-ceiling windows since 1977 in the AZ Valley. We measure, we plan, we install—and voila! You've got yourself a stunning window wall!
And fret not, safety enthusiasts! We adhere to all safety precautions and have the certifications to prove it. So, you can rest easy knowing that your new window won't suddenly decide they want to take a permanent vacation.
Cost and Value Considerations of Floor-to-Ceiling Windows
"Alright, alright. I'm convinced. But how much is this going to cost me?" 
Well, while floor-to-ceiling windows do come with a price tag, they also add tremendous value to your property. So, not only do you get a home that looks like it's straight out of a design magazine, but you also get a sweet return on investment when it's time to sell.
For actual prices on the windows themselves, there are many variables that go into this. It's best to reach out & speak to our window specialist to get more info in this regard.
How to Maintain Floor-to-Ceiling Windows
Floor-to-ceiling windows require some TLC
A little cleaning, some regular checks, and your windows will continue to shine brighter than a full moon on a clear night. And don't worry about their lifespan—these windows are like the Keith Richards of the construction world. They're built to last.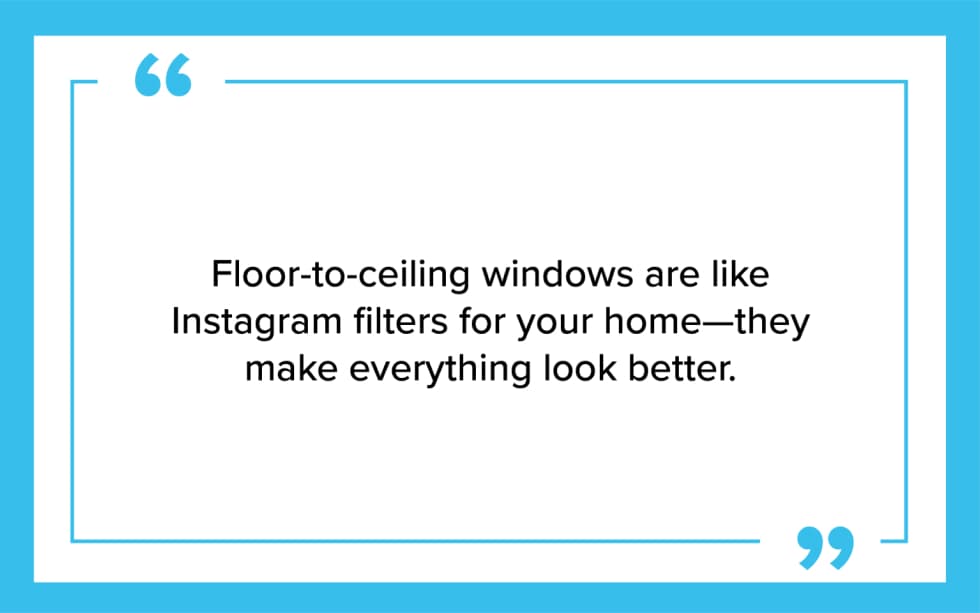 Why We Are the Best Choice for Floor-to-Ceiling Windows in Arizona
If you're in Arizona and fancy some floor-to-ceiling windows, we're your people! We've been the trusted choice since 1977 with the history & reputation to prove it. Give us a shout by calling us at (866) 245-7760 or submitting an inquiry at the top of the page.
Final Words
To wrap it up, floor-to-ceiling windows are the upgrade your home needs. They're stylish, functional, and a fantastic investment. 
With them, you can transform your living spaces and elevate your quality of life. And remember, when it comes to floor-to-ceiling windows, we've got you covered.
Happy window gazing!
Got a Hankering for More Great Demers Glass Content?
We got you covered. Check out the following related pieces: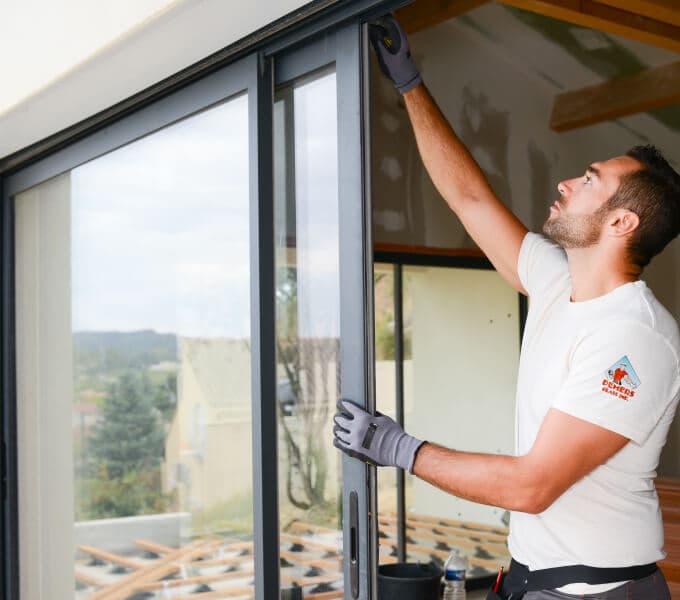 Take a look at all of our Residential Services
Demers Glass offers a wide range of services to help with your residential home improvements including window repair & replacements, glass tinting, shower enclosures, retractable screens and solar/insect screens, glass tabletops for your kitchen or coffee table and countertops and fireplace glass.