Are you doing a full bathroom remodel, or do you have an existing shower that you want to replace? Are you looking for the best glass shower enclosure for your bathroom? Then you've come to the right place.
Look, the bathroom is one of the most important spaces in your home so it's important that it turns out just the way you envision it. Choosing a glass shower enclosure is a vital piece of the puzzle because it can affect the whole look and function of the space. 
But, it's also one of the more difficult decisions that you'll make during the remodel, especially if you're not familiar with glass shower enclosures, to begin with.  
To help you along, we've put together a simple but helpful guide with everything you need to know about shower enclosures.
1. Consider the Types of Glass Shower Enclosures
Glass shower enclosures come in framed, frameless, and semi-frameless options.
A framed shower has a frame around the perimeter and around the door, and it is usually made from thinner glass, making it more affordable. 
A semi-frameless shower means the door is mostly unframed but has metal supports around the glass, and it uses similar glass thickness to the framed shower but in some instances, slightly thicker glass can be used. 
Frameless shower enclosures have much thicker glass and can be customized to suit your style preferences. They're usually kept in place using metal clips or U channels.
2. Choose the Hinges
Glass shower enclosures are also available as hinged, pivot, and sliding doors. This refers to the way in which the enclosures are hinged.
Why is this important?
Because it affects the functionality of your bathroom. 
Hinge glass shower enclosures open and close like any other door in your house and the hinges can be placed on the top, middle, bottom, or all the way through. 
Check out this hinge glass shower enclosure we recently installed: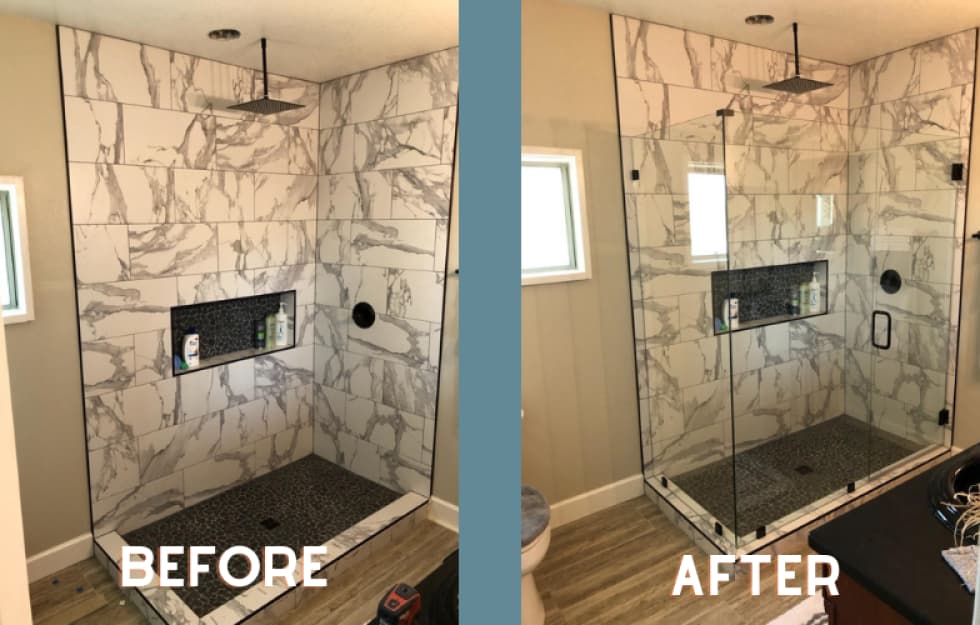 Pivot enclosures have more of a minimalist look since they pivot in and out from the top and bottom of the length of the enclosure.
A traditional track is that keeps sliding glass shower enclosures rolling, and it's typically utilized in bathrooms with a combined shower and bathtub.
If you have a smaller bathroom with limited space, consider a sliding glass shower enclosure so you don't have to worry about a hinged or pivoting enclosure taking up too much space. Semi-frameless sliding shower enclosures offer quite a unique look.
Of course, sliding shower enclosures are convenient for any sized space but if you have room to spare, then you may also choose a hinged or pivot glass shower enclosure.
3. Where are you Going to Install it?
When looking to install a glass shower enclosure, consider the location. Some of these glass shower doors cannot be installed in certain parts of the bathroom due to the configuration of the space. 
For example, the vanity or bathroom fixtures can limit your options when it comes to the positioning of the shower enclosure.
That's why it helps to work with a professional such as our partners at HMI Glass, who can help you create a customized shower enclosure that will last you for years to come. 
Here is a custom glass shower enclosure job we did where we had to conform to the shape of the bathtub: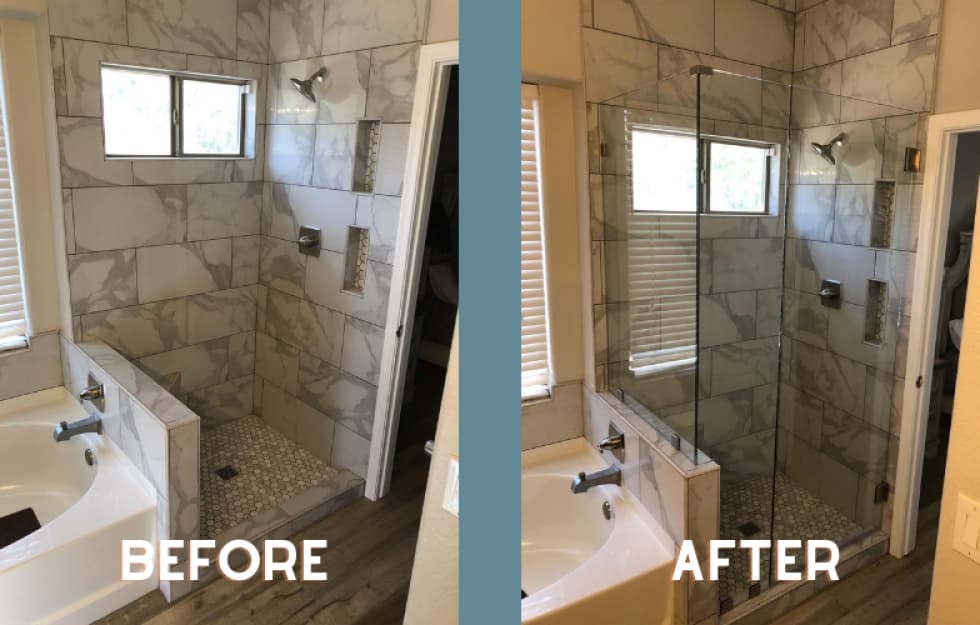 4. Does the Glass Shower Enclosure Come With Coating?
Glass is porous which means that it can absorb water spurts, shampoo, soap, etc. so it is worth asking your supplier if they offer some form of the coating when installing the glass shower enclosure in order to fill those pores and create a slick surface where those items can no longer be absorbed.
Why is it important to let your supplier coat the glass shower enclosure for you? 
Because the professionals will apply the coating in a controlled environment which results in a better coating. This coating will also make for hassle-free cleaning and low maintenance glass that lasts for longer. You'll end up using fewer chemical cleaners to keep your glass shower door clean too.
If the glass were to ever get clouded or spotty, it would really take away from the beauty of the bathroom, so the coating will help to prevent etching and keep your bathroom looking fresh for many years to come.
We work with Unelko to provide the highest quality coating to your glass shower enclosure.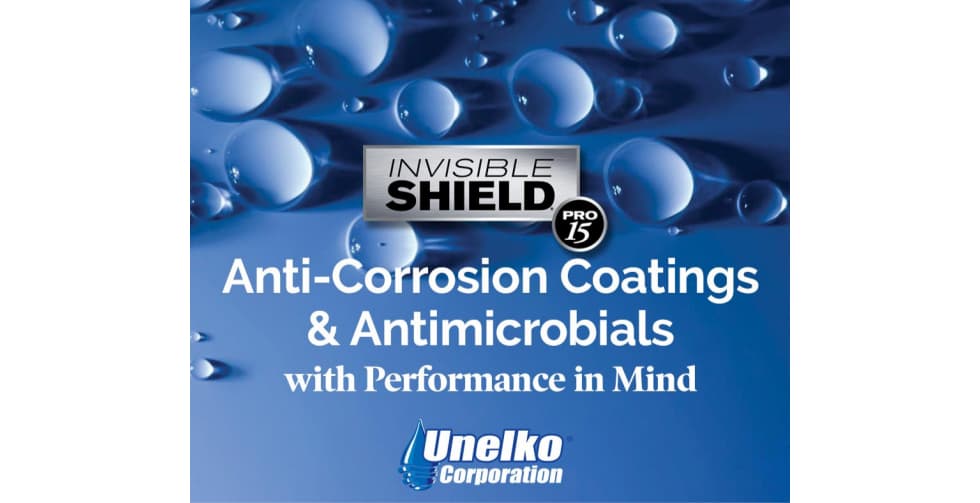 5. Shower Enclosure Shapes
It's also important to ensure that the glass shower enclosure that you use is suitable for the existing opening. If you're remodeling, you can choose from any number of different shapes that are available since you're designing your bathroom space from scratch.
The good news?
A single shower door fits most spaces. However, you also have a door and panel shower door for showers that open in a single straight line, while a quarter shower door has two glass doors that need to form a 90-degree angle to create a square or rectangular enclosure. 
Lastly, a neo-angle shower door requires multiple glass panels that are brought together to form an attractive diamond shape. Pretty, pretty! 
6. Choosing the Right Glass Thickness 
Glass shower enclosures come in different thickness levels as well, and the size you pick will depend on your needs and preferences. 
The general rule of thumb is that the thicker the glass, the stronger it'll be, and 3/8 of an inch is considered to be the perfect thickness for a shower enclosure as it's powerful enough to withstand regular use. 
For the strongest glass shower enclosure, consider ½ inch thick glass. It will stand up to heavy-duty use, it's built to last and it's suitable for long-term use in a family home. However, ½ inch thick glass is really heavy and mostly works for frameless or semi-framed enclosures. It will also limit the types of attachments that you can use. 
Once you've decided how thick you'd like your glass shower enclosure to be, consider its finish. Low iron glass is completely clear, traditional glass offers general clarity, while obscure, tinted, and patterned glass can help to add interest to your bathroom design. 
Consider the Hardware Options
Now, here's the fun part. Once you've figured out the size, thickness, and shape of your glass shower enclosure, you can customize it further with hardware and unique finishes like door handles with square or round knobs and pulls. 
The most important thing is to ensure that the hardware you pick offers the right level of functionality for your needs.
For instance, a full-sized pull would work well for a family with children as it's more accessible for little ones. Classic chrome is a firm favorite when it comes to hardware finishes, but you also have matte black, bright chrome, different shades of gold, and brushed nickel.
Why is All of This Important? 
Because a high-quality glass shower enclosure can help to create an inviting atmosphere. It feels like part of the room, as though it's built for the space instead of just being installed for functionality alone.
Regardless of the option you pick, you must ensure that you're satisfied with your enclosure because you're going to live with it for a long time. Plus, glass shower enclosures are durable, easy to clean, long-lasting, aesthetically pleasing, and easy to install. What more could you ask for? 
Interested in more awesome Demers Glass content? Fret no more! Check out the following related pieces:
Cool Shower Ideas That Will Transform Your Bathroom Into a Paradise
Four Advantages to Frameless Glass Shower Enclosures
Framed, Semi-Frameless, and Frameless Shower Enclosures