Tired of your outdated bathroom with its old-school shower configuration? Sometimes, all it takes to transform a tired bathroom is to update the fundamentals, such as your shower enclosure.
A brand-new custom shower enclosure can change the whole look and feel of your bathroom before you even move on to other areas.
Modern shower enclosures can also bring a lot of light into the bathroom while giving it more of a spacious feel.
That begs the question…
But how do you choose the right shower enclosure for your bathroom and what should you look for? To answer these and other questions, we have put together a helpful guide for you below. Read on for more.
How to Choose the Right Shower Enclosure
It's a good thing you clicked on this guide because there are a lot of considerations that you need to make when shopping for a shower enclosure, such as:
Compatibility with your existing bathroom design
Unless you plan on spending on a complete bathroom refurbishment where you start everything from scratch, you're going to want a shower enclosure that matches your bathroom design as well as the overall shower space.
What do your walls look like? Do you already have tiles or other such materials installed on the walls? If you can see the studs on your wall this means you currently have a rough or unfinished opening. You must finish your walls before choosing a shower enclosure.
Whether you choose to finish your shower walls with tile, backer board, or acrylic, you'll then be able to measure the shower space.
Different glass styles
The modern homeowner has their pick when it comes to shower enclosure styles. Some of the most popular include crystal clear low iron glass which has a green tint that will bring flow to your bathroom design.
Etched glass has a unique engraving that offers more privacy, while a privacy ban will help to obscure the middle part of the enclosure. You may also add decorative patterns to create interest and flair.
Acid wash, or frosted glass, offers even more privacy and is just one of many different types of pattern glass that you can use in your shower.
Glass thickness
The type of enclosure that you choose will affect the type of glass you need, and when it comes to shower enclosures, the thicker the glass, the more durable it is. Generally, 6mm glass tends to be the standard option and it works well in moderately used bathrooms. On the other hand, 8mm glass has the same capabilities as 6mm glass but offers a touch more durability. This glass works well in a moderate to heavily used bathroom.
If you are looking for more structural integrity, then consider using 10mm glass. It is great for busy families and heavy usage.
Not to mention a touch of luxury you'll love.
It is worth noting here that the quadrants of sliding door enclosures work well with 6mm to 8mm to ensure that doors slide smoothly and easily. For wet rooms and walk-in enclosures, 8mm to 10mm glass is recommended to provide added durability.
Measurements
Before you order any shower door, it's important to measure your shower enclosure opening to make sure that it's the right fit. To get an accurate measurement, decide on the specific enclosure height that you would like. Write it down. Measure the opening width along the curb, middle, and the chosen shower enclosure height using a 4ft level and record your measurement.
Next, place your level on the left wall. Check if the wall is plumb from the curb to the top of the enclosure. If not, write down the out of plumb measurement as this will be an important detail when ordering your door. Now, take your level on the right side and find the out of plumb measurements again.
What are plumb walls? Walls get out of plumb when one or both are slightly angled towards the center, outwards, or in any direction.
Finally, place your level on the curb. If the curb is not level either, record the out of level measurement from wall to wall. If you choose to have a wall to ceiling unit, measure the height at each wall and at the center of the opening, then place your level on the ceiling. If the ceiling is not level, record the out of level measurement from wall to wall.
Be sure to write down each measurement. Whether buying online or in-store, these measurements will determine the perfect size for your brand-new door. Measuring your shower will also make it easier to budget for your shower enclosure project.
Note, our team of professional installers have the know-with-all to take these measurements with precision if this is something you aren't comfortable with.
Types of Shower Enclosures
The beauty of shower enclosures is that they offer a world of variety.
Sliding glass door
To build a sliding glass door, you need a track that runs along the top and bottom of the shower enclosure opening. This is what gives it that sliding motion and this type of enclosure can be an ideal solution for someone with a tub and shower combination or a walk-in shower.
Lightweight tempered glass is the typical choice for sliding glass shower enclosures.
Swinging glass doors
A swinging glass door is the most convenient shower enclosure option for a walk-in shower. Using unobtrusive hardware, a glass door is attached to the wall and you can choose to have the door open outward, inward, or both ways.
This type of shower enclosure works great in a no-threshold shower since there is no track or metal framing them in most cases.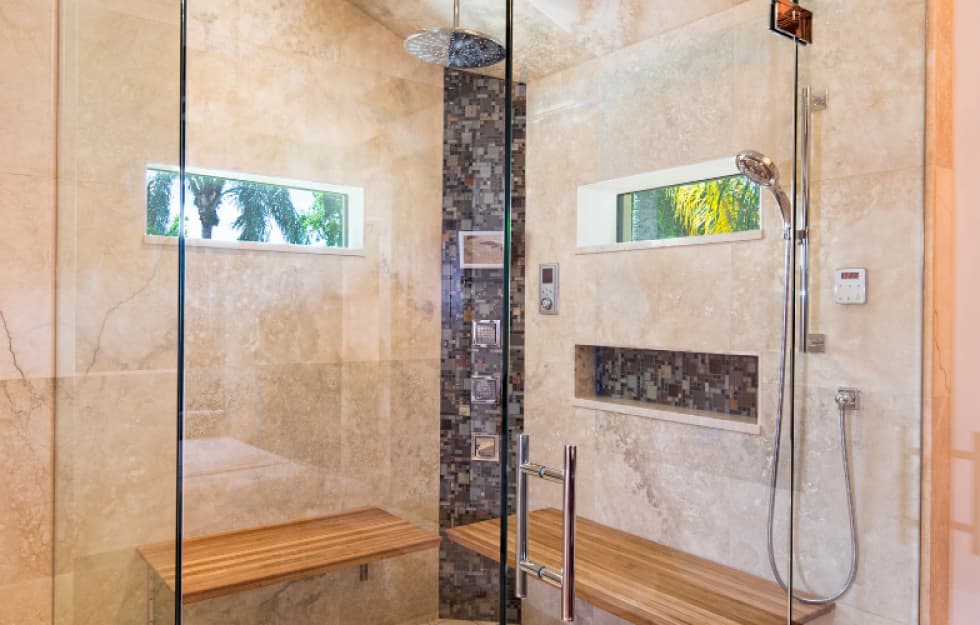 Framed
Framed shower enclosures are typically designed for general openings and they represent the traditional standard. It means that all four edges of the operating door are framed with some type of metal framework. With larger enclosures that have a shower-tub combo, for example, additional supports are required for the glass panel, so a framed shower enclosure is ideal. In most cases, a continuous header bar is used as it runs across the shower enclosure.
While you cannot customize a framed enclosure as much as you would be able to customize a frameless one, framed enclosures are more forgiving in terms of measurements and installation. They are also more cost-effective, as they allow contractors to use lightweight tempered glass instead of the heavy-duty glass required with a frameless design, plus they are quicker to install.
However, be mindful that framed glass enclosure can invite mold and mildew growth through trapped moisture, and they require more maintenance. For enhanced protection against mold and mildew, Demers Glass proudly uses The Invisible Shield® the world's first long-lasting and invisible "non-stick" coating for glass, porcelain and ceramics. This product can be used across commercial glass, household glass, shower glass and much more. Demers Glass offers Unelko products, application, and routine application services.
Frameless
On the other hand, frameless enclosures typically require heavy glass and little to no vertical framework, and a true exposed glass edge on your operating panels. Frameless shower enclosures offer more of a customized look, allowing you to create custom-crafted shower doors that fit a lot of design options in terms of hardware selection. They are also easier to clean because there are minimal areas for water to collect.
However, due to the heavy-duty glass that is required, frameless shower enclosures can be pricey. Of course, they make up for this in many ways, such as giving you the opportunity to show off all that creative tile work that you painstakingly picked out, as well as a reduced risk of mold and mildew buildup.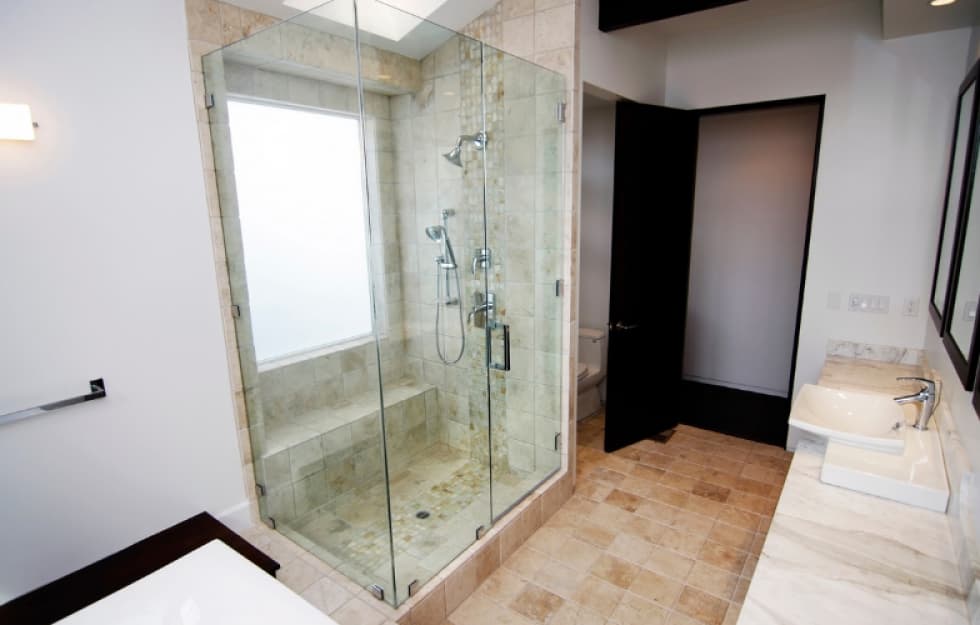 Semi-frameless
Semi-frameless shower enclosures have minimal structural framing along the wrists, and they come at a lower price point than frameless enclosures. Framed enclosures surround each piece of glass with sturdy metal framing, providing stability so you can maximize your bathroom space. as such, they offer the best of both worlds between frameless and framed shower enclosures.
All three types of enclosures are suitable for traditional shower enclosures, tub enclosures, and corner showers.
Glassdoor Shower Enclosure vs Bathtub Partition
If you have a tub and shower situation in your bathroom, then you have a choice between glass door shower enclosures and the traditional bathtub partition.
Bathtub partitions come in various forms, from the shower curtain type to glass versions that run from the bathtub to the ceiling. You can choose a fixed partition or opt for a sliding or swinging model. The choice is yours. They will definitely do a good job of keeping your bathroom floors dry by preventing water from splashing from the bath and shower. But, oftentimes, they're not very easy on the eye.
Glassdoor shower enclosures are available in a wide range of style variations, and they instantly elevate the bathroom interior by introducing an element of elegance. They are also very hardy, easy to clean and use, and can last for decades when cared for properly.
In summary
As you can see, with the right shower enclosure you can create the bathroom of your dreams. Remember to measure your shower enclosure opening first before you decide on the type of shower enclosure that you want and choose the glass style and thickness that works for your preferences and lifestyle.
If you are looking for a team of seasoned professionals who have been installing custom shower enclosures for over 40 years at three locations around Arizona, scroll below to get a free quote.
Interested in more awesome Demers Glass content? Fret no more! Check out the following related pieces:
Cool Shower Ideas That Will Transform Your Bathroom Into a Paradise
6 Tips for Choosing the Perfect Glass Shower Enclosure
Four Advantages to Frameless Glass Shower Enclosures
Framed, Semi-Frameless, and Frameless Shower Enclosures