The hipstoric home is a combination of the old and the new, or the traditional and trendy. It's about paying homage to what has served us for a long time while giving a new sense of purpose to that which is spent. As sustainability takes center stage, upcycling is becoming more fashionable and widespread.
The younger generations want to connect to a time they never fully got to experience while still being true to themselves. The older generation wants to 'get with the times' while still leaving room for nostalgia. Hipstoric homes are a great way to bridge that gap for both generations, helping them to achieve that perfect balance between the past and the present.
If you're curious about the new hipstoric home trend and how to incorporate it into your home, keep reading.
History of Hipstoric Homes
We get the word hipstoric from 'hip' and historic'. While this is a fairly new term, the actual concept has been around for some time. Take for instance millennials. When they started buying homes, albeit at a low rate, they married classic with modern. It's all a matter of comfort, and that just happens to be this blending of two different styles.
There have been many hipstoric homes throughout history. Perhaps the most famous of all is the White House. With a neoclassical architectural design and an interior that has both old and new objects, it's truly hipstoric. Being a personal residence to the president of the United States, it's always expressive of the personality of whoever is in office. At the same time, it has heavily traditional elements that are a celebration of American history and which will always be a part of it.
Another one of the most popular hipstoric homes in America is Elvis Presley's Graceland. It was built in the Classical Revival style and features several contemporary (for its time) components. Take for example the meditation garden, the basement game room, and the recording studio. This is literally one of the most funkiest farmhouses in America if you consider that it does in fact have a full horse stable.
Characteristics of Hipstoric Homes
The hipstoric home is a visual reconciliation of the past and the present. Patterns and shapes, colors, and designs that are trending and traditional come together. In terms of texture, you get those comfortable, homey surfaces that come from the good old days as well as the more sleek and edgy feel from the present.
Think of vintage pieces standing side-by-side with more current ones. Or a Victorian layout in areas where you wouldn't usually have one. It's about bringing new life to classical objects like wall paneling or the chesterfield sofa, using new materials or incorporating novel shapes and patterns. Think elegant finishes and clean lines for minimalist functionality which makes for the perfect work-from-home setup. Then picture high-tech amenities throughout the home. This is the essence of the hipstoric home.
Most people normally go for one design theme throughout the house and the hipstoric home threatens this uniformity. There's a narrative you can pick up when you're confronted with such a home, it can tell a story of your experiences as well as your identity.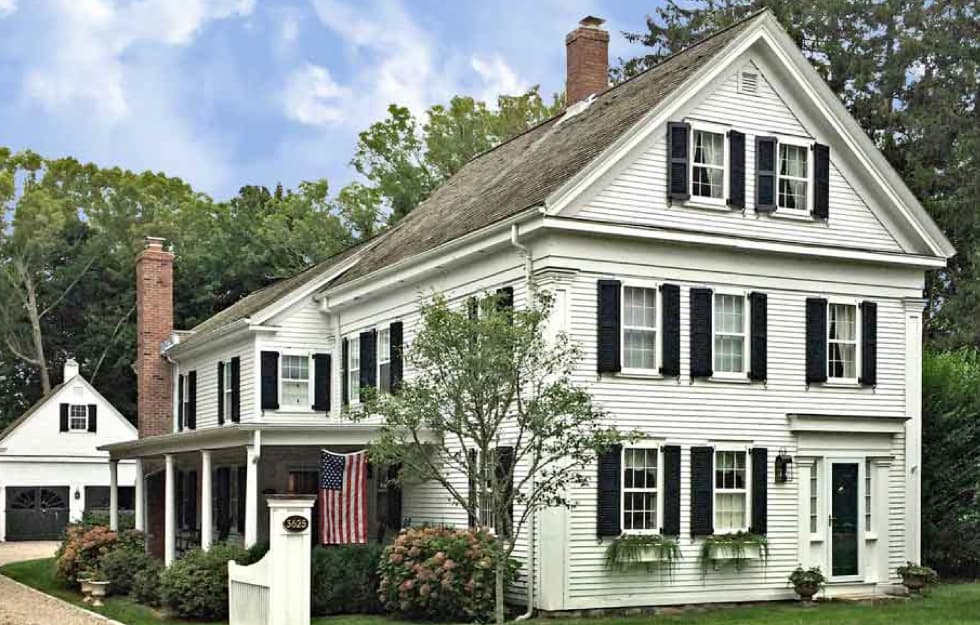 Advantages of Living in a Hipstoric Home 
Basic economics tells us that greater demand contributes to an increase in value. Having a hipstoric home could result in a greater Return on Investment over time because of how timeless this style of home is. The curb appeal of such a home will also factor into the rising of the property value. The uniqueness in design does after all provide an advantage for the buyer, which is worth paying for of course.
The very idea of the hipstoric home is an act of rebellion. It's a total detour from the status quo, where it's just copying and pasting all the way. The romanticizing of history lends a sentimental feel to it, while the mixing of the current portrays open-mindedness. This is the type of home that gives the impression of being cultured and it's a great way to show off your sophisticated taste.
Preserving a hipstoric home can result in fewer carbon emissions and greater conservation of energy compared to building from scratch. You get to create something that's of superior quality or of higher worth, all while using fewer resources.
Antique windows and other elements get to take on a second life through repurposing, and then there's the added advantage of merging antiques with something that's better engineered or technically up-to-date.
How to Incorporate Hipstoric Elements into your Home
When it comes to surfaces, you're going to want to go for dark wood. The flooring could be geometric or angular with repeating patterns. You then have the spaces between your surfaces covered with decorative structures and finishes, known to the experts as architectural moldings. These few actions can really bring out an old-timey feeling in your space.
For that cutting-edge look, there are a few tricks as well. Leather and velvet upholstery will give the home a luxury feel that's typical of modern life. The goal is to get straight edges, fewer details, and neutral bases with pops of color. Reflective surfaces, metals, and hard surfaces; all of these are signs of forward-looking design. As are thermally broken and energy-efficient windows.
One way to fuse the best of both worlds is through repurposing antique windows. It's possible to actually make an antique window as energy efficient as a replacement. In fact, you can make it, even more, energy efficient by working with experienced window and glass professionals. Keeping your windows and saving some cash is as easy as adding a storm door or weatherizing your antique windows.
Besides repurposing antique windows, there are other ways to achieve a hipstoric feel. Having both antique and modern furniture in the same spaces is one way. And that goes for more than just furniture, contemporary and antique artwork can be juxtaposed as well. Alternatively, you can have a modern piece of furniture and a vintage piece of artwork or the other way around. You also have the option of grouping together pieces according to period or style.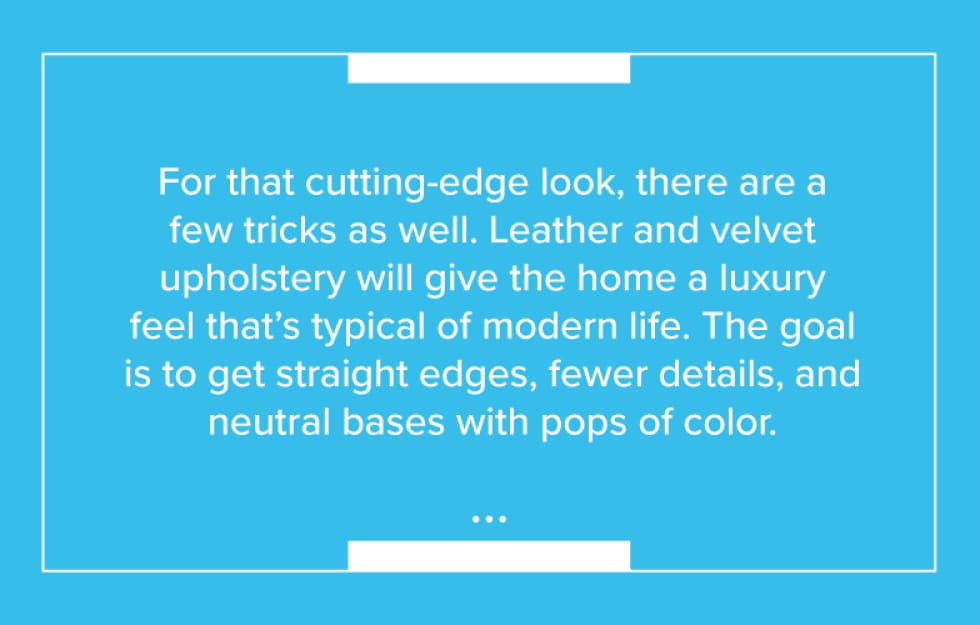 Suggestions for Finding Vintage and Antique Materials to Use in your Home
Vintage and antique accessories can be sourced from a variety of places. For convenience, you can order them online from Etsy, eBay, specialist sites, or even Facebook marketplace.
You can also find them at flea markets, antique shops, and thrift stores.
Go for those estate sales and yard sales but make it a point to go on the last day.
When you do find these items, you'll have to do your homework so you know what you're buying. After all, you don't want to purchase something that isn't what it appears to be.
Hiring a Designer or Contractor who Specializes in Hipstoric Homes
The moment you find a potential designer or contractor to take on your project, research them. See if you can get an interview with them to assess just how much of a good fit they'll be. Not only do you need to know them, but they should have an idea of what makes you tick. From your lifestyle to your preferences and personality; it'll all help them gain insight into what designs will work for you. 
The designer or contractor you go for has to have demonstrated their skill level in one way or another. You can give them the opportunity to prove themselves by stopping by a live site to see them in action. This should give you an idea of how they approach projects and how well they perform.
You'll have to take into consideration the amount of experience these professionals have. A great way to save yourself all the research energy is to just get a referral. This can be from friends, family, or a building inspector.
You'll find designers and contractors in every city you can think of. Still, it's best if you get someone that's closer to home. You can do this by performing a simple Google search like "contractors in my area or "interior designers close to me". This way, you can have them come over to see what they're working with. This will put them in a better position to be able to give you advice on how you should tackle the entire project.
You want to be clear about what you hope to achieve with your project. At the same time, it helps to be flexible and open to advice. These are professionals that have a good idea about what works well together and what doesn't. For that reason, their knowledge and insight can be of great value to you. Let them know what you need and what you want, and make sure there's an open line of communication throughout.
It'll help to ask about what type of services they offer as well. This is important because you need to know what to expect. Avoiding surprises will also call for you to find out what their charges are and how they ended up being that amount. Pick their brain and find out what type of clients they like to work with so you know how to best work with them.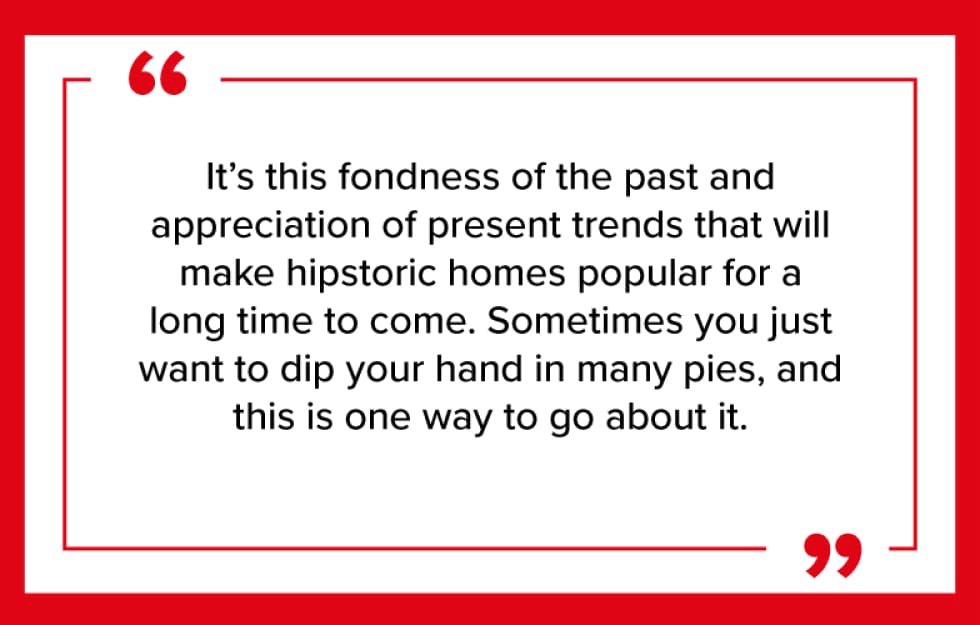 Conclusion 
People will always have a fascination with the past, mainly because it's currently impossible to time travel. The next best thing is to enjoy vintage and antique items while they're still intact. Just as well, it's in our nature to want to keep up with whatever is popular at the time.
It's this fondness of the past and appreciation of present trends that will make hipstoric homes popular for a long time to come. Sometimes you just want to dip your hand in many pies, and this is one way to go about it.
You need only make a quick Pinterest search to see that the hipstoric home is the next best thing. We're likely to see more of this as the months and the years go by, especially with the "modern farmhouse fatigue" setting in. The age of simple, one-dimensional design is over.  Now is the era of the exciting and eclectic, when two separate periods come together to complement each other in harmony and contrast.
If everything we've covered doesn't convince you to get on the hipstoric home bandwagon, then we don't know what will.  All evidence points to this being the ultimate style statement right now and in the years to come.
Whether you're thinking about buying your next home or considering renovating the one you're living in, this is a great option. You get to enjoy the charming feel of historic elements and honor memories long gone while embracing the reality of the present.
Be sure to navigate the whole process on your own terms while also leaning on expert advice for the more technical stuff. Luckily, you're in a better position to do so after reading this.